< Go back to store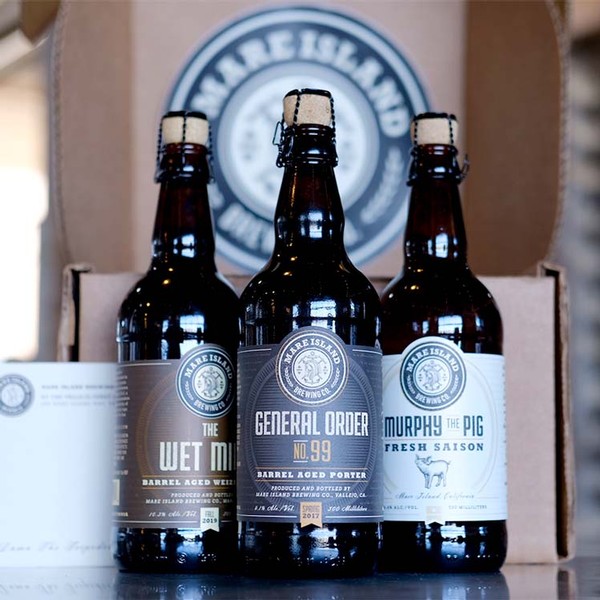 Bottled Gift Set
Three of our infamous reserve-level beers are all wrapped up for you to give or keep for yourself.
General Order No. 99 "Barrel Aged Porter" (ABV varies based on vintage): General Order No. 99, issued by Secretary of the Navy Josephus Daniels in 1914, banished all alcohol from Naval bases. We hereby rescind the order on Mare Island. This is our finest porter, aged in former whiskey and pinot noir wine barrels for six months, blended, and then bottle-conditioned to perfection in a historic bomb shelter on Mare Island. Intense, with hints of chocolate, coffee, fresh-milled grain, vanilla spice, toast, and a distant, elegant echo of fine whiskey, this limited-production reserve brew has balance yet heft on the palate, with creaminess derived from extended barrel and bottle aging. 500 ml.
Murphy the Pig "Fresh Saison" (ABV 6.6%): We've been crafting our barrel-aged "Farragut's Farmhouse" barrel-aged Saison for a few years, and occasionally we've diverted a little fresh Saison from those batches (before they go to barrel) over to the taproom, where it has been a huge hit. We felt it was time to bottle up a fresh Saison. 500 ml.
The Wet Mile "Barrel Aged Spiced Ale (ABV 12.2%): For 142 glorious years, the waterfront of Mare Island shipyard could fabricate or fix, rig or retrofit, pretty much anything. Today a cadre of new artisans continue the legacy. A half-mile down the waterfront from us (one mile roundtrip), the Savage & Cooke distillery has set up shop. One day they kindly offered us a few used whiskey barrels, we filled them with our Spiced Ale, and after a year of aging, "The Wet Mile" Barrel-Aged Spiced Ale was born. 500 ml.
QUARTERLY NEWSLETTER
Get exclusive sneak peaks for upcoming beers, events, & more!