< Go back to store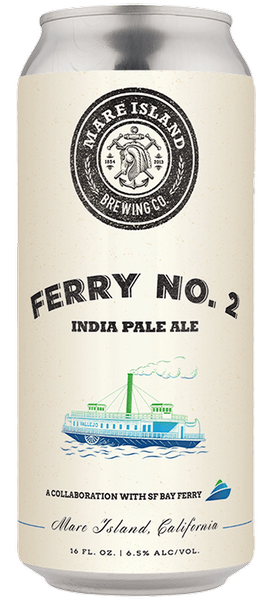 Ferry No. 2
IPA
Ferry No. 2 IPA
Available in a 4 pack, 12 pack, or 24 pack
*10% Case Discount included in 24 pack price*
Style: India Pale Ale
Format: 4 x 16oz
ABV: 6.5%
IBU: 57
Historical Note: Ferry No. 2 is a local legend. She's been a passenger ferry, war time worker, and hangout spot for countercultural icons. She began serving our waters in the 1890s as "SS Vallejo", and moved thousands of WW2 shipyard workers daily between Vallejo and Mare Island. Eventually, she was adopted by artists in Sausalito, where she hosted parties for the likes of Timothy Leary, Alan Ginsburg, Jack Kerouac, and Janis Joplin. Though she leads a quieter life as a houseboat these days, SF Bay Ferry has taken up the mantle – carrying thousands daily between Vallejo and SF for work and pleasure. We toast ferries old and new with this collaborative IPA.
QUARTERLY NEWSLETTER
Get exclusive sneak peaks for upcoming beers, events, & more!